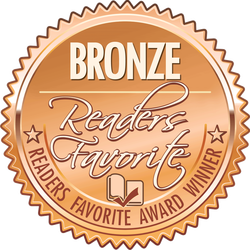 Book review: 5 out of 5 Stars

"The Path to Job Search Success by Tom Payne is in fact a practical manual to prepare for any interview. Wise suggestions, inspiring real life stories and helpful tips make this book a worthy guide and reference. The book can boast of many new and valuable tips to make one a sure winner." Review by Roy T. James of Readers' Favorite
---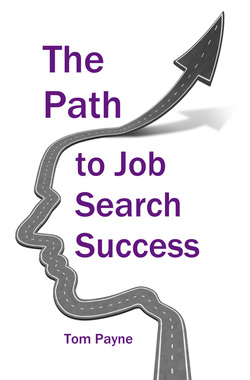 The Path to Job Search Success
is a 245-page guide that shows you how to
master nonverbal behavior, the key to becoming charismatic
. And it explains the psychological mechanisms behind this phenomena. It is an interviewing system that has passed the toughest tests, like the one below.
To order the paperback for $12.99, click on the front cover to the left. To order the eBook for $2.99, click on the front cover below.
To download a free eReader app for your device (computer, tablet, phone, etc.) click on this link:
http://amzn.to/1Nd6c21
---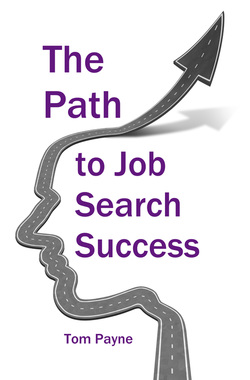 Copyright 2015 Tom Payne
Chapter One:
Amazing Results
JACK'S NIGHTMARE SCENARIO
If accomplishments and giftedness determined job search success, then Jack should have had a job by now.
[1]
He scored a perfect 800 on the math section of the SAT, and had a post-graduate degree in engineering from Stanford University.
But, as Jack discovered, we are psychologically wired to move in the wrong direction down the job-search path. How we perceive things, make decisions, the many processes that make up human nature, can betray us. Fortunately, this is not an irreversible condition, and after weeks of hard work Jack was ready to take the next step.
I asked him to call a friend at the last place he worked to set up an informational interview. His goal was to learn about the current state of his former company, how their industry was faring, his possible fit within it, and to gather networking contacts.
They agreed to see him. Then, the day before his flight, he got a phone call and discovered…I'll let his emails tell the story:
"Hi Tom,
"I wanted to drop you a quick note to let you know how my interviews went with my former company… and to thank you for all of your help.
"Last week I had interviews at both the Atlanta and Tampa offices. The initial plan was to just have general discussions about any potential future needs they might have.
The day before I was to arrive
[my emphasis] I got an agenda with a total of 18 separate interviews scheduled between the two offices. I was given a heads up before the interviews that there were some people that were against hiring me."
Yikes! He had less than twenty-four hours to prepare for eighteen job interviews in two days. And at least one of the interviewers, a former colleague who did not like Jack, wanted to block his return.
BRING IT ON
Most people would dread this scenario, but Jack did not. After the interviews he shared his results:
"It was a grueling couple of days but I ACED the interviews. Thanks in large part to your help the interviews couldn't have gone better.
Realizing the importance of style
and having some great
stories
that could be delivered
clearly
and
concisely
made the difference." [My emphasis.]
Now, even if you "ACED the interviews," what would you expect to hear at the end of them? Normally the hiring authority would say, "Thanks for your time," or, "We'll get back to you." After all, the eighteen people would need to discuss how he did, wouldn't they?
Jack heard something quite different. Again, I quote from his email:
"By the time I had completed the interviews I had won over even the people that were against hiring me and I was given the choice of either working in the Atlanta or Tampa office. I was told I will be receiving the official offer this Friday!"
Instead of, "We'll get back to you," they asked him which office he wanted to work in. Can you imagine how he felt after conducting eighteen interviews and hearing this? And the news got better. When he received his offer he said he could not make a counteroffer on the salary, because their initial offer was at the top end of his position's pay scale. They had already maxed his salary out. That is a rare experience for most jobseekers, but it is not uncommon when you get the hiring authority to
want
you.
THE END RESULT
Jack's email concludes on a note that once again emphasizes the importance of style, or the way he presented himself:
"My biggest potential stumbling block was to explain my 6-year gap away from engineering. Going into the interview I felt confident that I could explain it in a way that turned it from a major negative into a non-event or even a positive. As a result of my preparation I was able to be relaxed, convey confidence and to be personable instead of being nervous and stiff."
The path that I took Jack down is deceptively simple. We aligned his job search actions with the way our minds and hearts work, how we process information, make decisions, are affected by hopes and fears, attitudes and assumptions, and so on. This realignment involved, in part, focusing on style.
THE CASE FOR STYLE
Realizing the importance of style was a turning point in Jack's quest for employment. Prior to this, he was misled by the false assumption that all he needed to do was to present his substantial, unadorned achievements, and he would be hired. He clung to this false assumption even while his experience proved it was wrong.
As I told Jack, "Credentials and qualifications get you an invitation to the contest, but they do not win it. Everyone who is being interviewed has substantial achievements, or they would not be there. Once the invitation to the interview is secured, it is how your achievements are presented that matter more than the achievements themselves."
To help Jack see the importance of style, I compared a very accomplished, style-challenged person with a less-accomplished, style-savvy competitor. The more accomplished person presented his bigger and better achievements as mere data-points, unadorned facts, a type of word cloud with a uniform font.
Meanwhile, his competitor presented her achievements in stories. They were like three-dimensional portraits competing against flat stick figures lacking depth. They also made her smaller achievements memorable, gave them context and did what a good story does: they entertained. By being entertaining she was more likable than some fact-centric, super-serious person.
I will compare a factual approach to stories so you can see, hear and feel the difference yourself.
COMPARING DATA-POINTS AND STORIES
In manufacturing there is a measurement of quality that looks at how many opportunities you had to make a mistake, and how many mistakes you made. If your quality level is 1,000 defects per million opportunities, then it is appalling. In this comparison, Jill improved her company's quality level from this abysmal level to ten defects per million opportunities, a 100-fold improvement.
Jill was competing for this job opportunity against Bob, a manufacturing genius, who improved a woeful quality rate of 1,000 defects per million opportunities to five defects per million opportunities. His achievement was twice as substantial as Jill's.
During their interviews, both were asked, "What achievement are you proudest of?"
Jill answered:
"When I joined Acme it had a reputation for putting out the lowest-quality product in our industry and for having the highest manufacturing costs.
[2]
Worse yet, the manufacturing team I was inheriting finished dead last in the company's job satisfaction surveys, and had high turnover.
"To turn this situation around I developed a plan with measurable milestones, and whenever we achieved one we would have a mini-celebration. We worked together on process improvements that built quality into the product.
"Before you knew it, we became a motivated team and we reduced the failure rate 100-fold. It went from 1,000 defects per million opportunities, to ten. This resulted in annual gains of $2,000,000 to the bottom line. I'm very proud of that, but what really warms my heart is the way our internal surveys showed my manufacturing team went from being the least satisfied employees in the company to among the most satisfied."
The interviewer looked at Jill and thought, "This woman is a transformational leader. Imagine what she could do for us. $2,000,000 to the bottom line!" And then it was Bob's turn to answer the same question.
THE FOG OF DATA
The interviewer asks Bob, "What achievement are you proudest of?"
Bob answers, "I'm proudest of the way I improved the quality of our manufacturing process. I reduced the error rate from 1,000 defects per million opportunities to five per million." A self-satisfied smile followed, along with silence. "Let that stunning achievement sink in," Bob thought, "then let's see if any of my competitors can top that." It was a great achievement. It made Bob feel good about himself whenever he thought about it.
"Wow," said the interviewer, "that's fantastic." But the interview doesn't end there. Bob's ineffective
style
is again illustrated by his answer to the interviewer's follow-up question, "How did you achieve this improvement in quality?"
This opened the door for Bob to lurch from one unpremeditated detail to the next. A flood of unnecessary words accompanied these details. His answer was like a rushed first draft in need of serious editing. Far from being like Jack's answers, "clear and concise," Bob's answer was stylistically awful. It is also punctuated by the ummms and ahhhs of someone who is trying to recall an answer:
"The steps I took to achieve this, I'm sure you can imagine, were many. Ummm, there were dozens of Monday morning meetings to analyze data about every aspect of the manufacturing process. There was a constant reviewing of personnel. Two people were fired and two people were hired to replace them, and two people were promoted. My expectations were clearly spelled out in individual and group meetings and they were put in writing. Ahhh. Some of the biggest gains came from improving the way we handled the work-in-process. I instituted completely new process controls, and changed some processes completely. I located processes that were causing a higher failure rate and removed them. That was big. Ummmm. I bought some better error-tracking software and calibration devices. But as I look back, those Monday morning meetings turned out to be one of the most important game changers."
As the data tsunami gathered steam, and the meaningless facts multiplied, the truly great 200-fold improvement in quality was minimized if not forgotten. It was buried in an unhappy fog of details. It was a proudly stated achievement framed by white noise, a background that deadened the sound of this great accomplishment.
There are reasons why data dumps occur. No one knows
his
achievements like the interviewee.
[3]
He loves the details surrounding his accomplishments, but because he hasn't edited them he ends up sharing too many, leaving the interviewer dazed. Suddenly, after experiencing a few data dumps, the hiring authority doesn't want to hire this candidate for reasons he doesn't fully understand.
The key is this. Outstanding achievements can lose their impact when they are poorly presented. Style trumps substance, because a lack of style can make one's substantial achievements disappear.
STYLE AND FALSE ASSUMPTIONS
Why does virtually everyone believe, or act like they believe, that style is less important than the strength of one's achievements?
We have a stubborn faith in the meaningfulness of our achievements, because they are connected with our sense of self-worth. They are intimately associated with our identity, and they help make us feel good about ourselves. We consciously and unconsciously pursue this feeling. We will even disregard reality to protect how we think about ourselves. In the real world we can be awful at interviewing, and typically are. Yet, even though our continual failure to secure job offers is evidence of this fact, we will disregard it. If asked, "Are you a good or a bad interviewer?" The worst will tend to reply, "I'm above average."
This tendency toward self-delusion is part of the way we are psychologically wired.
"One of the most enduring lessons from social psychology is that…people go to great lengths to view the world in a way that maintains a sense of well-being. …Just as we possess a potent physical immune system that protects us from threats to our physical well-being, so do we possess a potent psychological immune system that protects us from threats to our psychological well-being."
[4]
Because of this immune system, we tend to focus on what makes us feel good about ourselves. This leads us to concentrate on our achievements and magnify their importance at the expense of style, or the manner in which we present them.
There is another powerful reason to overlook matters of style, and it is also rooted in human nature. It takes a great deal of hard work to turn flat, lifeless answers into vibrant ones that resonate long after the interview. When Jack mentioned using stories, and having clear and concise answers, he failed to add, "And this takes weeks of hard work." I know it did. I worked with him to create them.
To avoid this time-consuming, difficult work, the vast majority of jobseekers take the easier path. They collect their achievements, great and small, and disgorge them during an interview, one data-point at a time. We are predisposed to seek this easy path:
"A general law of "least effort" applies to cognitive as well as physical exertion. The law asserts that if there are several ways of achieving the same goal, people will eventually gravitate to the least demanding course of action. In the economy of action, effort is a cost, and the acquisition of skill is driven by the benefits and costs. Laziness is built deep into our nature."
[5]
This tendency, however, is not destiny, because "the acquisition of skill is driven by the
benefits
and the cost." As I've found with most of my clients, once they understand the benefits of my approach they have the motivation and energy needed to acquire powerful job-search skills. So, one of the things I try to do is illumine the understanding of readers or audiences, about why a technique or practice is so important. I don't just say, "Write and remember clear and concise stories." I show you why it is absolutely essential to do this, and then show you how to do this. Because a poorly constructed story can do far more harm than good as we shall see.
WHY THIS BOOK WAS WRITTEN
We have much to cover, but before we dive into this material, I'd like to share with you my personal motivation for providing this job search guide.
I've coached thousands of jobseekers via radio—both as the interviewer and the interviewee—and through books I've written on the subject.
[6]
I've also taught hundreds through seminars for over fifteen years, coaching private clients and serving as a volunteer coach at the Career Transitions Center of Chicago (CTC).
[7]
The reason why I focus so much of my time on helping jobseekers is because I've experienced the anxiety and pain of being laid off. It can leave you feeling so hollowed out and empty that you can abandon hope.
I also know, firsthand, how ill-equipped most jobseekers are to do well at job search. Like virtually all of the jobseekers I meet, I was terrible at interviewing and networking, and blissfully ignorant about my incompetence. My psychological immune system led me to believe I was pretty good when I was awful.
I might never have discovered how badly I needed to improve in this area had I not received executive-outplacement assistance. It showed me I was doing almost everything wrong. But after mastering this new material I began to out-interview people who were far more qualified. I concluded, "This information is powerful. It could really help people."
I then developed and presented daylong, job-search seminars to those who were between jobs. I charged $50 for attending because offering it for free led to a large number of no-shows.
THE PATH TO JOB-SEARCH SUCCESS
Some time after this, I joined a corporation that manufactured and sold multi-million dollar communication systems through distributors. I was in charge of the sales department and saw how some of the distributors were good, but others were abysmal. In those parts of the country represented by good distributors, we did well. But in the areas represented by woeful distributors, we did poorly, no matter how hard we supported them.
To remedy this situation, I developed a weeklong sales-training course to teach these distributors the art of complex sales. This forced me to think deeply about the sales process and the underlying psychological causes that led to the buying-decision-effect. It also resulted in the writing of a book,
The Causes of Sales Success
, that was favorably reviewed by one of the leading authorities on the subject of sales, Neil Rackham.
[8]
Though we were a small, unknown company operating in a field of multi-billion dollar giants—Tyco, GE and Hill-Rom—who had polished, direct salespeople, we were able to grow to a greater than 50% market share.
I share this bit of background to let you know that the insights contained in this sales-training course are also a part of this book, and when I cover the oft-hated subject of sales, you will be thrilled with the news I will share. Namely, my system requires you to sell less than you are almost certainly doing in interviews right now. I will cover this in greater detail in the next chapter.
Finally, I also added the insights gained from my consultancy that uses information from fields as diverse as communication—verbal and non-verbal—neuroscience, creative problem solving, leadership, sales, and more. I think you will find much of this information new, fascinating and relevant to job search success.
BENEFITS
Among the long-term benefits that can be gained from this job search path are:
1. Understanding what makes you unique and defines the value you bring to any organization. And then leveraging the strengths you uncover at your next opportunity, making you more successful and engaged in your work.
2. Learning how to control the powerful, subconscious speech called non-verbal behavior. Its impact on communication is immense, and yet few focus on this area.
3. Learning how to communicate with stories, one of the most powerful uses of verbal communication.
4. Ways to improve your capacity to learn, think creatively, and much more.
In its early stages, the job-search path is often painful, but as you master the material in this book you will likely see how valuable this difficult education can be. It can teach you life-skills that will pave the way to even greater achievements.
In the next chapter we will look at the nature of the job-interviewing game, because until we know how to play the game, it is difficult to win.
NOTES
[1]
I am referring to all of my clients by a changed first name.
[2]
Acme is my preferred name for a fictional company. You will encounter it, and variations of it, several times throughout this book.
[3]
Until someone comes up with an acceptable gender-neutral pronoun, I suggest male writers use masculine pronouns and female writers use feminine pronouns.
[4]
Timothy D. Wilson,
Strangers to Ourselves: Discovering the Adaptive Unconscious
(Cambridge, MA: Belknap Press of Harvard University Press, 2002), p. 38.
[5]
Daniel Kahneman,
Thinking, Fast and Slow
(New York: Farrar, Straus and Giroux, 2011), p. 35. A great book that I highly recommend, though it is a dense, slow read.
[6]
Two books, to be exact. This one and one entitled,
No Medal for Second Place: How to Finish First in Job Interviews
. This book that you are reading offers a more comprehensive and neuroscientific look at the subject of job search.
[7]
The Career Transitions Center of Chicago is a place where I do volunteer coaching. If you are in the Chicago area you cannot possibly find a better job search value than the $300 program that the CTC offers. I believe it to be superior to executive outplacement programs that can easily cost more than twenty times as much. If you are not in the Chicago area they do offer virtual services as well. Their website is www.ctcchicago.org.
[8]
Neil Rackham is the NY Times bestselling author of
Spin Selling
. When I cover the differences between simple and complex sales, these insights come from his groundbreaking work.
---
The Path to Job Search Success:


TABLE OF CONTENTS


PART 1: CHANGING COURSE

1. Amazing Results 3

2. The Nature of the Game 14

3. Who's Running the Show? 22

4. Cognitive Ease, Cognitive Strain, and Clarity 30

PART 2: MASTERING NON-VERBAL COMMUNICATION

5. The Power of Non-Verbal Behaviors 43

6. Mastering Non-Verbal Communication 54

7. Run for Your Life 67

8. Survival of the Fit 74

PART 3: MASTERING VERBAL COMMUNICATION

9. Self-Discovery 85

10. The Branding Statement 99

11. "Tell Me a Story" 108

12. A Formula for Success 114

13. The Making of a Story 124

14. Become the Solution 134

15. Scripted Answers 142

16. Suicide Questions 154

PART 4: FINISHING TOUCHES

17. The Interview's End Game 171

18. Mock Interviews and Phone Interviews 179

19. Networking Through Informational Interviews 187

20. Technological Twists 198

21. Negotiation 207

22. The H.E.A.R.T. Principles 219

ACKNOWLEDGEMENTS 235



No Medal for Second Place:
How to Finish First in Job Interviews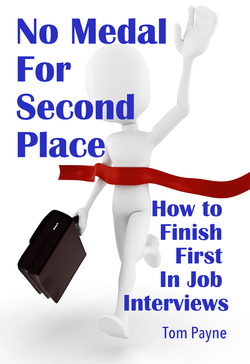 No Medal for Second Place is a primer on the art of interviewing for a job. It is not as comprehensive as The Path to Job Search Success, nor does it contain the neuroscientific and communication research that shows how we can take control of our non-verbal communication. But it has valuable information that is offered at a discounted price.
To order the eBook for $.99, please click on the front cover image to the left. To order the paperback for $9.99 please click on the front cover image below.
"I happened upon Tom's book just before having a couple of job interviews and reading it made all the difference to successfully completing them. One interview quickly moved to a job offer and into negotiations. Tom's book prepared me for this process, and provided a roadmap through these critical steps to obtaining my new job." Patrick D.

"After reading this book and following the steps in the book I felt very prepared for my ... full day of interviews... and was successful in getting the job. I even won over one interviewer that was against hiring me before the interview." Jim H.
---
The First Chapter From:

No Medal for Second Place:
How to Finish First in Job Interviews


Copyright 2013 Tom Payne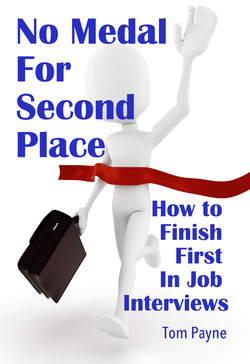 Chapter 1:

Running in the Wrong Direction


"It doesn't make sense!"

Julie was talking about her recent job interview. As the memory of it kept replaying in her head it generated more confusion and frustration.

I asked, "What doesn't make sense?"

She continued, "I wasn't hired for a great job opportunity. I know Jane, the person they chose, and her achievements can't compare to mine. Don't they want the best? Isn't that why they conduct interviews?"

Julie found herself in an unfamiliar, uncomfortable place where questions produced more questions and answers could not be found. It led her to do the unthinkable: She turned to someone for help. A close friend referred her to me and today was our first meeting.

I wished my referral came with this warning, "Prepare to have your basic assumptions challenged." Because after giving interviewing seminars for over a decade, coaching many jobseekers both individually and in groups, I've concluded that most of them are running in the wrong direction. This is because they are guided by wrong assumptions.

The Forgotten Relationship: Cause and Effect

I began the process of replacing her wrong assumptions by saying, "What may be confusing you is the way most interviewing processes are designed to find the best-qualified candidates, but the interviewers are not."

"What?"

"Every interviewer wants to hire the best candidate, but human nature, the way people are wired, can lead to puzzling decisions. The question we need to answer is, 'What causes the interviewer to make his hiring decision?'

"And for the record, I know plenty of women who are hiring authorities, but for simplicity's sake I will stick with masculine pronouns."

Julie said, "Suit yourself. I prefer the feminine."

"Good," I replied. "Now we will have balance." I then continued, "To break the interviewing code, to make sense of your recent interview, we need to think in terms of cause and effect.

"Behind every effect is a cause. The hiring decision is the effect we are trying to cause. So what we're interested in discovering is, 'What causes the hiring decision?'

"Yet, simple as this formula is, not many people know what causes the hiring decision. And that's strange, because if I don't know what these causes are, then how can I purposefully apply them to achieve my goal of being hired? Without this knowledge I am either following an interviewing tradition, based on what seems to work, or my best guesses.

"So Julie, I have an important question for you. Do you know what causes the hiring decision?"

Julie tackled this question with her excellent problem-solving skills. She thought, "The hiring decision is caused by a person's skills and achievements." This thought was followed by a question, "If true, then why was my less-qualified acquaintance hired instead of me?" Although she knew skills and achievements could not be the cause her mind kept coming back to skills and achievements as the answer to my question. She told herself, "Think outside of the box, Julie." But when she kept returning to the same discredited answer she thought, "Think outside of the box? I am the box!"

A Losing Strategy

"Don't worry," I interrupted, as I saw her struggling to find an answer. "I've never had anyone answer that question correctly, because until I ask it, almost no one thinks about it. We'll answer this question in a moment, but first I want to describe the current state of interviewing.

"About fifty years ago one of the greatest defensive football players of his era picked up a fumble, ran sixty-six yards into the end zone and triumphantly threw the football up in the air. There was just one problem. The Minnesota Vikings defensive end, Jim Marshall, had run in the wrong direction and scored for the opposing team. That is the definition of a losing strategy."

"Ouch. How embarrassing."

"As embarrassing as it gets, because running in the wrong direction almost never happens in the NFL. But interviewing is a different game. In this arena almost everyone is running in the wrong direction. This makes for a level playing field until you compete against someone running in the right direction."

Julie said, "When that happens someone who is less qualified can out-interview someone who is more qualified. Am I right?"

I nodded and said, "Yes you are."

She then raised her right hand and said, "Been there. Got the t-shirt. Saw my therapist." Then she passionately added, "And it still makes me mad."

"Yes," I said, "it's painful, because there is no medal for second place in the job-interviewing contest. The Olympics may give out silver and bronze medals, but at the end of an interview the second, third and fourth-place finishers can all expect either a rejection letter or total neglect. This makes the job interview one of life's most unforgiving competitions. It can leave you psychologically bruised."

Julie was slightly emotional when she said, "That's how it felt for me. I'm always confident, always upbeat. But when they chose Jane, it knocked the wind out of me. And it's still shaking my confidence."

"Don't worry. The approach you are going to learn will make you radiate confidence so long as you do the work. And it has been successful under the most extreme conditions. Which brings up a story that should give you hope."

Personally Tested Advice

"At one point I held four jobs during the previous five years. Two times I left jobs for other opportunities. Once I was bankruptcy re-organized out of existence. And one time I was part of a toxic culture that thankfully got rid of me along with many others. But my resume was a disaster.

"One day I heard about a great opportunity. It would involve hiring a national sales team and leading them in the launch of a revolutionary new monitor used during childbirth. I was experienced in medical device sales, but not in obstetrics.

"Unfortunately for me, my bad track record and lack of experience was competing against someone who had twenty years of experience with the world's number one medical-monitoring company. Worse yet, a doctor who authored a textbook on obstetrics used by medical students across the country, and who worked for the hiring company as a consultant, recommended him. My competitor was employed and I was not. He worked on the West Coast, where the opportunity was located, and I did not.

"The odds of me being hired were somewhere between far-fetched and absurd. Nonetheless, I got the job."

Julie shook her head, and said, "How did you do it?"

"I ran in the right direction and he didn't."

The Correct, But Unwanted Assumptions

"If we hope to run in the right direction, we need to change our assumptions. Correct assumptions form the foundation of our success and we start laying it by answering the question, 'What causes the hiring-decision-effect?' Once I know this I become a marksman who sees his target and hits it, round after round, while my competitors are firing blindly in all directions. My actions are intentional, and not accidental.

"The answer to this question will also reveal why most people are running in the wrong direction. The correct assumptions are ones we don't want to believe are true. They are distasteful and we tend to reject them out of hand. This makes people cling to the wrong assumption even when the evidence clearly shows it is wrong. Take this assumption."

False Assumption # 1: The Hiring Decision Is Rational.

"The hiring decision is, drum roll please, a decision. Decisions are made in the mind. Therefore, the causes of the hiring decision must be psychological in nature.

"Two of the most powerful psychological influences on decision-making are emotion and reason. So Julie, is the hiring authority's decision swayed primarily by rational or emotional forces?"

Julie answered, "The hiring authority analyzes resumes—that's rational. SHE [Julie made sure I caught the change in gender] asks questions to see if we bring special skills to her team and that is rational. After the interview she typically gets together with her team to discuss the various candidates and who would be better. This is an analytical process, so that's rational. I'd have to say emotion may creep into hiring decisions, but it is predominantly rational."

"Whether someone has thought about this question or not, most people interview according to this assumption. They try and give the hiring authority more reasons why they should be hired than their competitors. For example, when asked, 'Tell me about yourself,' they desperately try to pack as many achievements into a five-minute span as possible. Unfortunately, this is running in the wrong direction. It is ineffective, because the hiring decision is more emotional than rational."

Clinging to Wrong Assumptions

Julie shook her head and said, "I'm sorry, but I don't buy that. I just gave you an illustration of how it is a rational process."

"You did. You detailed a standard, rational hiring process. But hiring is not a process, it is a decision made in the mind. And you did not illustrate the hiring authority's psychological state, and whether or not his decision was being influenced by rational or irrational forces.

"I didn't think you would accept the correct assumption, because it is difficult to accept. Who wants to think an important decision, like the hiring decision, is irrational? The idea is offensive. We think, in our attempt to justify ourselves, we are rational creatures. And so we hang onto the wrong assumption even when our own experience shows us it is wrong.

"Can't you see how your recent experience proves my point? When you were passed over for someone less talented, was that a rational decision on the part of the interviewer?"

At that instant Julie knew the strength of her argument was weakened by her own admission. Through gritted teeth she conceded, "No. Like I said, it made no sense."

"Exactly. It was an irrational decision, not a rational one. Somehow Jane made the hiring authority feel more comfortable. Your achievements may be superior to Jane's, but her interviewing approach quieted his fears. And I'm willing to bet her interviewing style made her more likable, while your style hurt your likability."

Julie responded quickly, "What does interviewing style have to do with likability?"

Why Emotion Wins

"Our communication style has everything to do with likability. Let's compare a rational and an emotional communication style and see which one is more likable.

"A guy named Doofus McGrew goes up to Betty Sue with a deadly serious expression on his face and says, 'I have a high I.Q. I am dependable. I've never missed a day at work. I make $150,000 a year. My grandparents and great-grandparents lived to an average age of 90, and my parents are still alive and in perfect health. I find you to be attractive and smart enough for marriage purposes. We are an ideal match. My mother, who is a statistician, has examined the variables and agrees. Will you marry me?'

"Without a moment's hesitation Betty Sue says, 'No.'

"Now let's look at Romeo Jones's approach. He comes up to Betty Sue and seems at ease. He is wearing a big smile and says: 'I may not be the world's authority on what love is, but I do know this: I can't stop thinking about you. And this pleases me, because just thinking about you makes me smile. If you were to accept my marriage proposal you can count on one thing. I will never want to be with anyone else, because my heart doesn't have enough room for another person.'

"Without asking her, 'Will you marry me?' Betty Sue tells Romeo, 'I do.'

"Does the rational or the emotional approach make a person more likable? Doofus's method is very rational, but he fails in his attempt because the rational approach is cold and unfeeling. There is nothing warm about statistics or data-points. Doofus may be a likable guy, but he chose a style that makes him difficult to like. The same is true of an interviewee who intensely delivers a barrage of facts and data about why he is wonderful and a perfect fit for the job. A cold, rational style generates little warmth. It is difficult to like."

The Most Important Decisions and Emotional Influence

"Julie, if you are like most interviewees I bet your approach to the interview is heavy on facts and data. Am I right?"

"Yes, but how else am I going to convince someone I am more than capable of doing the job? You seem to be reducing the interviewing process to a popularity contest, and it has to be so much more."

"It is so much more, because the hiring decision is caused by many emotions, and some are far more powerful than just being likable.

"One of the most counter-intuitive ideas we can have about decision-making is this: The more important the decision, the more powerful the influence of emotions. We naturally think the opposite, because we hate to think of ourselves as irrational, particularly when it comes to making big decisions. But there is a good reason why emotions cause important decisions.

"What makes a decision important are its consequences. If a decision can cause significant pain or gain, then it is important. This decision would be influenced by emotions like the fear of harm and the hope of rewards. Reason would take a back seat. Take, for example, the marriage decision, one of the most important decisions a person can make. It can be a great blessing or a great curse, and no one would dispute the influence emotions exert on this decision.

"The hiring decision can also be a great blessing or curse. You could be a perfect addition to my team, or someone who refuses to fit in and who fights me at every turn.

"Now, you may be the most qualified candidate, but if Jane quieted my fears and you did not, and if she interviewed in a way that made her likable and you did not, then who will I end up hiring? The answer is simple. I hire the less-qualified candidate, because I do not fear hiring her, and because I like her and want her on my team."

Julie silently shook her head no. She said, "Reason can always overpower emotion. Sorry, but count me among the people who believe humans are rational."

Even though her experience confirmed the irrationality of the hiring decision she could not bring herself to embrace an assumption that was personally distasteful. So I said, "Few people want to embrace this notion at first, but this illustration sometimes helps them see how reason is weak in the face of emotion.

"Do you have a fear of heights, the dark, snakes, spiders, or any other phobias?"

She shivered a little as she said, "Snakes, spiders and rats. All three of them make me cringe."

"Can I, or anyone else, reason you out of these fears?"

She countered, "But that's a phobia. You can't compare that to a normal decision."

"Okay, is love normal? Have you ever been in love with a person who wasn't right for you? Or have you had a friend in that spot? I've seen the emotion of love nullify reason time after time, making excuse after excuse for their lover's hurtful behavior, until the pain of reality was too great for the person to bear. And this crazy drama affected eminently rational business professionals.

"The power of emotion, and the risk-reward nature of the hiring decision are some of the reasons why this decision is emotionally caused. People hire people they feel comfortable with, who inspire the emotion of trust. And your rational approach to interviewing—bombarding people with facts—does little to inspire the emotions that cause the hiring decision."

Julie's sense of humor made an appearance, "So the bottom line is: Don't be a doofus."

"That pretty much sums it up."

The Vanishing Act

Julie's eyes were starting to open. She thought about how she peppered the hiring authority with 100 reasons why she was the perfect person for the job. She was intense. There was nothing relaxed or warm about her demeanor. She was, in short, not very likable.

She said, "So the cold, unfeeling, rational communication style is difficult to warm up to, and this hurts my interviewing chances. Is that right?"

"Yes" I answered, then added, "but it does even more damage. It makes you disappear."

"What!" Julie exclaimed, her doubt on full display.

"Yes, it makes you disappear," I replied. "If I was a computer I could hear every one of your qualifications, calculate their worth, weigh them on a scale, compare these weighted reasons to those of the other four candidates, and then choose you because your qualifications outweighed theirs. But I'm human and I can't keep up with weighing the information before more arrives. By the third interview all of these facts have blurred together and the candidates all disappear.

"The same thing happened when you went to college. You sat in three one-hour college classes that occurred one after another. How much did you remember?"

"Hardly anything. Like you said, it became a blur."

"That's what happens to the interviewees who use a fact-laden, rational, interviewing style. They become part of the interviewing blur. They disappear in the fog of data.

"Is this starting to make sense?"

"Yes. I may be slow, but I'm not stupid."

"Trust me, I don't underestimate you or your smarts. But now I want to attack another persistent, false assumption. Are you ready to have your mind blown?"

"Again?" Julie asked.

"They say it's therapeutic."

"You enjoy doing this to me, don't you?"

"Yes," I said, because I had the outcome in view.

Lessons

1. Emotions cause important decisions like the hiring decision.

2. Change your direction. Stop presenting endless streams of facts and data. This is a rational approach.

3. We find it difficult to embrace correct assumptions when they seem to reflect poorly on us.


[END OF SAMPLE CHAPTERS]



CONTENTS

Acknowledgements vii

Section 1: The Foundation 1

Chapter 1: Running in the Wrong Direction 3

Chapter 2: The Unwanted Revelation 14

Chapter 3: Setting and Exceeding the Highest Expectations 20

Chapter 4: Perception Is… More Important than Reality 31

Section 2: The Interview 41

Chapter 5: First Impressions 43

Chapter 6: Tell Me a Story 53

Chapter 7: The Making of a Story 68

Chapter 8: Scripted or Unscripted Answers? 77

Chapter 9: The Value Statement 82

Chapter 10: Suicide and Showcase Questions 91

Chapter 11: Research, Your Questions, and the "Close" 105

Chapter 12: Technological Twists 112

Chapter 13: Mock, Phone, and Informational Interviews 118

Section 3: End Game 131

Chapter 14: Emotional Intelligence 133

Chapter 15: Negotiation 147

Chapter 16: Simplify. Focus. Achieve. 158

Appendix: Do I Need Career Assistance Training? 169

---