Coming soon: THE APOCALYPTIC CLOCK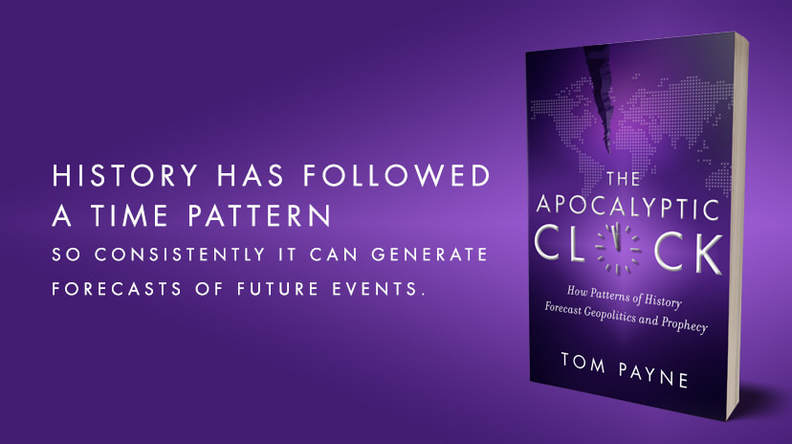 ​
Copyright © 2017 by Tom Payne. All rights reserved.
CHAPTER ONE: THE SIMPLE STRUCTURE OF TIME
We are caught in a riptide of time that is dragging everyone into deeper waters. Historical processes—6000 years in the making—are achieving their fulfillment and will soon turn today's steady drip of disturbing events into a global downpour.
This sounds frightening, but the patterns of history that produce this forecast—patterns you will clearly see—should give you hope and not fear. For if history follows a time pattern, then God is in control of human events. The chaos we see all around us is simply an ordered process we cannot yet see, but we will.
FORECASTS OF THE FUTURE... THAT CAME TRUE
The above forecast of imminent calamity first appeared in a book I wrote and published in 2010 that predicted some of the following specific events:
[1]
The year 2010 would be the approximate date of the downfall of President Hosni Mubarak of Egypt.
Mubarak was deposed in 2011, a casualty of the Arab Spring that broke out in that year. In 2010, when this forecast appeared, Mubarak seemed very safe.
A pro-socialist, anti-capitalist, anti-American, Jesuit would soon occupy the papal throne.
Predicting that a Jesuit would be pope was a big enough stretch since there had never been one in the 470-plus year history of this order. But in 2013 that changed with the election of a Jesuit cardinal, Jorge Mario Bergoglio, who is now called Pope Francis. But is Pope Francis, as predicted, pro-socialist, anti-capitalist and anti-American?
His actions suggest this is so. His pro-socialist anti-capitalist worldview is well documented, and will be covered later. But what about his attitude toward the U.S.?
William McGurn, after noting how Pope Francis has mildly condemned the oppression of the Venezuelan people under the socialist head of state, Nicolas Maduro, continued:
How different the tone is when the subject is Donald Trump or Uncle Sam. Whether suggesting that Mr. Trump is not Christian, warning on Mr. Trump's inaugural day that populism can lead to Hitler, or implying that ours is an economy that "kills," Pope Francis has an argot of displeasure all his own.
[2]
My papal prediction was very specific, but the above prediction is just part of the story involving the papacy. It will be turned on its head in ways traditional Catholics cannot even begin to imagine. And with the election of Pope Francis we can now forecast the timing of this transformation.
THE PRIMARY OBJECTION
Before moving ahead, it is important to address the central objection to the existence of an Apocalyptic Clock. It is typically stated as follows: Only God knows the future; therefore, your model of time cannot exist.
I would agree with the first part of the objection. No one
knows
the future, other than God. God's knowledge of the future enables Him to prophesy what will happen because knows every historical outcome in the finest detail. But what you are about to read is not prophecy; so, let's be clear on what this time model is.
Like weather models or economic models, the Apocalyptic Clock generates forecasts of future events. A forecast is a probability, a possible outcome. Forecasts of this sort are typically based on patterns that project into the future and, since patterns are difficult to interpret, no forecasting tool is 100% accurate. Nonetheless, as the above shows you, some of these forecasts generated by the Apocalyptic Clock have come true. And what makes increases the likelihood that other forecasts will also come true is the way they are aligning with prophecy, or God's knowledge of the future.
I will now cover a few more forecasts made in 2010 because they are particularly timely. Then we will start building this model of time.
THE NORTH KOREAN MISSILE CRISIS
On missile defense I wrote the following forecast in 2010:
We cannot be certain how the drama surrounding this missile shield [President Reagan's Strategic Defense Initiative] will end, but the Fractals point to new directions in the development and use of this technology around 2016 and 2026, with these directions bearing fruit around 2020 and 2030. By then it should be fully operational and capable of protecting the USA from rogue nations or hostile superpowers.[3]
This quote was from the end of the book, by which time it was assumed that the reader understood the model of time. So, if the language is confusing, then don't worry. The model is this simple:
Starting Point: There is a starting point, a date around which movements begin. In this instance the date on this time model is 1985, and in 1984 the Strategic Defense Initiative Organization (SDIO) came into being. This was also called Star Wars. It was President Ronald Reagan's vision to build a missile shield to protect the U.S. from ballistic missile launches.
Turning Point: This suggested the next date, 2016, where historical movements change course—the turning point moment—"new directions in the development and use of this technology around 2016."
End Point: There is a final date to this three date sequence and it is 2020. Whatever new direction is taken around 2016 will take around four years to develop and bear fruit.
That's it. You now understand the Apocalyptic Clock and how it generates forecasts of future events. There is a starting point date, a turning point date and an end point date. And once I saw the SDIO starting point this model of time suggested this movement to protect the U.S. from missiles would be redirected around 2016. This is how patterns of history can generate a forecast.
Following North Korea's recent ICBM tests in July and August of 2017, missile defense is very much in the news. President Donald J. Trump's threat that North Korea risks being on the receiving end of "fire and fury like the world has never seen," underscores the importance of this unfolding drama.
This action on the part of North Korea is just the sort of "turning point" moment that the Apocalyptic Clock was waiting for. It is causing the U.S. to invest additional money in this program, and missile defense is already the second biggest weapons program in the U.S. defense budget, behind the F-35 fighter jet. This could lead to achieving full operational capabilities by 2020. It could also point to the development of new technologies around the 2016 date that are not publicly known at this time, and that will then become operational, or capable of successful field-testing, around the year 2020. A second wave of activity that began around 1995 will change course around 2026 and achieve its end point in 2030.
THE EUROPEAN UNION
My forecast for the European Union (EU) was a doozy. It still is, and I still stand by it.
The EU will become a military superpower.
In 2010 the weak EU did not even have an Army and the armies of France, Spain, Italy, etc. looked incredibly weak when they required U.S. involvement to prevent the impending massacre of Libyan rebels by Muammar Gaddafi's army in 2011. Libya! But toward the end of 2016, the EU committed to building an army. This is the first small step toward fulfilling this forecast. And here is another forecast: The EU-USA alliance will end.
That ends the forecasts for now. I'll touch upon something people always ask me about, "What started this journey?"
THE BACK STORY
I was reading an investment newsletter that showed how the economy conformed to a sixty-year time cycle that was first proposed by the Russian economist Nikolai Kondratiev. Immediately this thought entered my mind, "Since God is sovereign over history, I wonder if there are time cycles in the Bible?"
It turned out that there were many of them, and several of them were used to order the flow of history. Jeremiah's prophecy that the Jews would go into captivity for seventy years is an example of the seventy-year time cycle being applied to the actual unfolding of history. This seventy-year time cycle appears elsewhere in the Bible and is very prominent in this time model. We will look at it, and other time cycles, in Chapter Two.
I never imagined a simple question—"I wonder if there are time cycles in the Bible?"—would stir up such an insatiable curiosity within me. For about six years I would wake up around 4:00-5:00 AM to study this topic before going to work. I read countless histories, biographies, filled spreadsheets with data, searched for patterns, and then tested various models of time. It took years before the patterns began to emerge.
A SYNOPSIS OF PART ONE
This chapter will focus on something you've already been introduced to: The STE sequence that stands for Starting-point-date, Turning-point-date, and End-point-date. A movement begins, changes course and ends. If you understand this, then you understand the Apocalyptic Clock. It is a simple structure of time.
I will apply this sequence to a history-changing individual's life to illustrate how it works and we will also look at how these three-date sequences are generated.
In Chapter Two we will at the larger patterns that these sequences are a part of. These patterns are based on time patterns found in the Bible.
In Chapter Three we will go over the historical themes that unfold on the Apocalyptic Clock. One of the most important themes concerns an age-old clash between two kingdoms that started at the beginning of time and is fast approaching its climactic, final battle. I came to realize the importance of these themes after I had a chance to test this time model.
TESTING THE MODEL OF TIME
To test this model of time I made many other predictions. This would either provide additional prospective proofs that this model of time exists or, if the results were mixed, it would enable me to refine this model of time.
The results were decidedly mixed. Several other predictions came true, but many predictions did not. This enabled me to refine the model in the following way:
It appears that the history that follows this time pattern is limited to certain historical themes found in Scripture. These themes impact everyone and they will appear in Chapter Three. They have followed this model of time with remarkable precision for the last 2000 years.
Now let's start building the model of time.
BUILDING THE APOCALYPTIC CLOCK
Let's assume there are time cycles. If there are, then the first question that we need to answer is, "What year anchors the time cycles?" Or, "From what hub of time do these time cycles extend?"
This task was one of the most difficult problems I faced. What made seeing the solution so difficult was a mindset that blinded me. I thought the time patterns should extend from one date. So, I chose the birth year of Jesus, in 5 BC.
[4]
When this produced inconclusive results I extended time cycles from the year of Jesus' crucifixion, resurrection, and ascension: 30 AD.
[5]
Again, the results were inconclusive.
I then began to notice that when I extended time cycle from the 5 BC birth-year of Jesus I produced cycle dates that historically significant people were born around. For example, I extended a millennial time cycle—1000 years—from 5 BC and two famous kings were born on the cycle date it produced: 995 AD.
[6]
And when I extended time cycles from the 30 AD date of Jesus' crucifixion and death I found that people kept dying around those dates (1030 AD in the case of the 1000-year time cycle). I then saw how each time cycle did not extend from one date, as I assumed, but from at least two dates
A PIECE WAS MISSING
As this sequencing of time began to take shape, I was haunted by the sense that there had to be a missing piece and I could not rest until I found it. For no matter how I tinkered with the model I could not get it to account for the launching of the Reformation on October 31, 1517. Few events were more significant to the history of modern Europe, or important to the development of a deeper understanding of the Christian faith. I believed, "If there is a model of time, then it has to account for this date."
Then I found it. There was a third hub of time from which the time cycles extended, an interim step that occurred about four years before the end point. This hub was the year of Jesus' baptism by the Holy Spirit—26 AD—the year He launched His ministry as the Christ. It was a turning point moment in the life of Jesus, a new direction that found its fulfillment in 30 AD, the end point year of His work on earth. After discovering this hub of time associated with the anointing of Jesus (Christ means "anointed) I began to see how the anointing of kings and Christian saints often coincided with cycle dates that were produced by time cycles extending from this hub.
With this puzzle piece in place, I could now see how the time cycles produced a sequence of cycle dates and history conformed to them.
NOT THE ATOMIC CLOCK
The atomic clock has an accuracy that loses only one second every 15 billion years. The Apocalyptic Clock does not have an accuracy that comes close to this standard.
The cycle date and the date of the actual event sometimes align perfectly, or they come within two to the three years of each other.
Why is it imprecise, or only approximate in its timing?
Perhaps it is because prophetic time in the Bible is also imprecise.
Jeremiah once prophesied that the Jews would be taken into captivity for seventy years. This captivity began in 605 BC, when some of the Jewish people were taken captive by the Babylonian Empire. The captivity ended in 538 BC, when the Jews were freed by Cyrus, the Medo-Persian conqueror of the Babylonians.
To go from 605 to 538 takes sixty-seven years. Some people go to extraordinary lengths to make this time period magically turn into seventy years, and I think they are missing the point. Namely, it appears that God does not want the timing of His prophecies to be as accurate as the atomic clock. We see a similar, Jeremiah-like closeness of the cycle dates to the actual historical event.
THE REPEATED APPEARANCE OF TIME CYCLES
Time cycles do not extend from the hubs of time just once. The 100-year time cycle constantly reappears:
100
+ 100 =
200
+ 100 =
300
+ 100 =
400
, and so on.
The seventy-two year time cycle, and every other time cycle, advances in the same way:
72
+ 72 =
144
+ 72 =
216
+ 72 =
288
+ 72 =
360
.
Now we will look at how St. Augustine of Hippo's life appears to have been shaped by the 360- and 400-year time cycles.
THE FIRST SEQUENCE: 355 – 386 – 390
[7]
St. Augustine was a history-changer. His theological and philosophical works dominated western thought for around 1000 years, and even after his work was eclipsed in the Catholic Church by the theology of St. Thomas Aquinas, it was embraced anew by the Protestant Reformation.
Augustine was born on November 13, 354 (S: 355).
[8]
So, his birth occurred near a cycle date associated with the birth of Jesus.
He experienced his dramatic conversion to the Christian faith in 386 (T: 386). Augustine was "anointed" by the Holy Spirit about 360 years after Jesus was anointed. This event "transformed" Augustine. It was a "turning point" moment that redirected the course of his life.
Initially, he chose to live a quiet, contemplative life, but such a life was not meant to be. In 391 (E: 390) he attended a mass wherein Bishop Valerius described the urgent needs of the church in Hippo, a town in North Africa. This led the congregation to plead with Augustine to accept ordination and help fight the good fight of the faith. He was made a priest that moment and lived in Hippo, serving as an officer of the church, until he died.
This set the stage for the concluding sequence of his life.
THE FINAL SEQUENCE: 395 – 426 – 430
[9]
The year 395 AD (S: 395) anchors the final sequence of his life. This date marks when he became the assistant-bishop of Hippo. When Bishop Valerius died in 396, Augustine became the Bishop of Hippo. It was a role he filled until his death.
He then nominated his successor, Eraclius, in 426 (T: 426). His time as Bishop of Hippo ended with his death in 430 (E: 430), on the cycle date associated with end points such as death.
THE WRITTEN WORD OF GOD AND TIME PATTERNS
There is another way the eternal Word of God has shaped time and that is through His Word that is preserved for us in Scripture. In this Word we will find many of the time patterns that extend from the three hubs of time. These time patterns will also illustrate the fractal nature of time, a critical insight that helped crack the time code.
[1]
The book was entitled,
The Template of Time: Our Destiny Decoded
.
[2]
McGurn, William, "Speak for Venezuela, Pope Francis," The Wall Street Journal, August 8, 2017, Vol. CCLXX No. 32, p. A 13.
[3]
Tom Payne,
The Template of Time: Our Destiny Decoded,
p. 171. We will cover the subject of fractals at the beginning of Chapter 2.
[4]
Jesus' birthdate is not 0 BC, because Herod the Great attempted to kill Him shortly after He was born. Herod died in 4 BC. Therefore, Jesus had to be born in that year, at the earliest, or before it. In
The Template of Time
I used a start date of 6 BC, but have since come to believe that 5 BC is more accurate.
[5]
These dates were based on the work of scholars, and were confirmed by how well history conformed to them. To shorten this description, I will now refer to 30 AD as the year of His resurrection.
[6]
The BC dates run backwards: 5, 4, 3, 2, 1. At the end of the final BC date the AD dates begin and move forward: 1, 2, 3, 4, 5. For this reason, 5 BC means 5 years need to be subtracted from time cycles that extend from this date. Definition: Cycle dates are dates produced by a time cycle's extension from important dates in the life of Jesus. For other definitions please turn to the Glossary in Appendix One.
[7]
When you extend 360 from 5 BC you get 355, 360 from 26 AD produced 386, and 360 from 30 AD = 390.
[8]
On the notation: S: 355 simply means that the cycle date of 355 is the "starting point" phase of a sequence. When the "turning point/transformation" phase appears the notation will change to "T: 386." When the "end point" phase arrives the notation will be "E: 390." The purpose of the notation is to show you how closely the actual dates of history track with the cycle dates of the Apocalyptic Clock. It is also added to help you see how the event (e.g., Augustine's birth), conforms to the unique influence of the "starting point" phase that is associated with the first cycle date of the sequence.
[9]
When you extend the 400-year time cycle from 5 BC you get 395 AD; 400 from 26 AD = 426; and 400 from 30 AD = 430.
---