The Causes of Sales Success:
The Key to Navigating the Maze of Sales
A leading sales authority, Neil Rackham, the NY Times Bestselling author of SPIN Selling, wrote the following about my book, The Causes of Sales Success:
"This eminently practical and useful book has something for everyone in sales, from
new entry to the most experienced key account executive. Its mix of ideas,
​examples, cases and quotes from history and literature make it fun to read."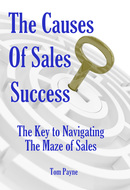 ​To order the paperback copy of this book for $11.99, or an eBook version for $2.99, please click on the front cover to the left.
---
Copyright 2012 Tom Payne

Preface

We were growing at our competitor's expense and were starting to recruit their most talented salespeople. While I was interviewing one of them I asked, "Why are you interested in leaving [our competitor] and joining us?"

Her answer was telling: "I want to find out what kind of magic pixie dust you are sprinkling on your sales managers that keeps me from winning any sales lately."

We should not have been winning so many sales. We were smaller than most of our competitors, including the one she worked for, by a large margin. Two of these competitors generated over $30 billion in revenue, and another was over $2 billion dollars in size. Meanwhile, our division was under $100 million in revenue even after doubling in size. I mention this detail because size matters when you are selling systems to hospitals that can cost upwards of $3 million dollars installed. They don't want to invest that amount of money on a company that a) might not be around, and b) they've never heard of.
​
"Magic pixie dust." I smiled and thought, "Her answer shows how our competitors are lost in the maze of sales and they don't know how to find their way out. What we are doing is not magic. If we hire her I will tell her how we sell, and she will think, 'This is nothing but common sense.' "

I then responded to her "pixie dust" comment, "Once you are part of the team you will see that it is not magic, but sometimes it sure seems like it."

Part One: Navigating the Maze of Sales

Chapter One: The Key to the Maze

For Every Effect There Is a Cause
​
What causes a customer to make a buying decision? Or, to ask this question in the language of sales, what causes a sale to close? The answer to this question is critical. For if we don't know what
causes
a sale, then how can we cause one? Until we
know
how to cause the buying-decision-effect, our selling is guesswork. We are like people trying to navigate a difficult maze while blindfolded.
A profession must know what causes the outcome it desires, or it is condemned to wander lost. For example, European physicians once believed they caused healing by correcting fluid imbalances in the body. Since blood was the body's primary fluid, they would surgically open a patient's vein and let them bleed to correct some of these imbalances. Bleeding was practiced for over 2000 years (!) until medical professionals began to understand what caused the effect of healing and health.
[i]
Before anyone in the sales profession judges these pioneer-physicians too harshly, we should first make certain that we are not repeating their mistake. Do salespeople know what causes the outcome they desire, namely, the closed sale?
First, let's examine what salespeople do in their attempt to close a sale. They present features and benefits, ask probing questions, sell in a consultative fashion, develop strong relationships and ask for the order: Close, close, close. This causes the closed sale, right? No. These techniques fail to account for the following:
I have walked into situations where our company was loathed (they loved the competitor), our sales manager was tossed out of the account, the first five minutes of my presentation were dominated by the customer hurling abuse at my company, our product and me. Yet after one hour the tables were turned and I closed the sale.
How? It wasn't by presenting features and benefits; the customer would have yawned at me while I tried to walk down this well-trodden road. Since I was called in from the corporate office to present at the last minute there was no time to ask probing questions, or perform the analysis typically used in the consultative sales process, so consultative selling could not have been a cause of this closed sale. It certainly wasn't closed through the strength of my relationships as the decision-making group made quite clear. Finally, I never asked for their order. Not once, much less three times. However, their unlikely buying decision came about because I knowingly employed the causes that produce the buying-decision-effect.
So what are these causes? Our quest to find this answer begins by answering the simple question: "What is selling?"
It is the art of causing a buying decision.
This simple definition tells us that selling is subject to the peculiarities of human psychology, because
decisions
are made by the mind
. The question now becomes, "What are the psychological causes of the buying-decision?"
Let's consider the broadest categories of influence: Is the decision rational or emotional? Are people sold by logical arguments or by emotional ones? It depends on what you are selling.
Simple Sales
If someone sells a product that is relatively inexpensive, then the buying decision has little risk. Since the buyer doesn't fear the consequences of his decision, there is little emotion involved in making one. Also, one person makes this decision. There is no need to convene a meeting, or form a committee, to decide on buying something when it has little impact on the organization.

The rule for selling in this situation is: Close, close, close. After all, the one who can make the decision is standing right in front of you, and if they are nudged toward a decision by your closing attempts, then perhaps they will decide in your favor.

Complex Sales
Complex sales are different. They typically involve more than one decision maker and the dollar amounts for goods and services can go from thousands to millions of dollars. If you were to offer your complex sales product to a decision-making team, and then try to close them, they would likely laugh. Their buying decision comes at the end of a multi-step process. Until this process is completed your closing attempts will be ignored.

In complex sales—the subject of this book--the causes of the buying decision are emotional in nature.

Before going further let's make sure this assumption is true, because if it is, then our entire approach to sales needs to be modified and, in some cases, completely overhauled.
Emotional Decisions and Money

The sales system detailed in this book was taught to dozens of sales classes over the course of a week, and I would begin many of them with a question: "Is the buying decision for our product rational or emotional?"

The majority would always answer: Rational. Since our product could cost millions installed, they assumed it would have to be as rational as possible. They naturally thought, "No one would allow their emotions to dictate how they would invest many thousands or even millions of dollars."

Then I would ask, "As we increase the dollar amount of the purchase does the decision become more rational or less rational?" This usually made them think a little bit longer. Some would begin to connect the dots and answer, "Less rational."

The buying decision in complex sales is emotional and becomes more so as the dollar amount of the sale goes up. The more money, the more emotion, because money is emotion quantified.

IBM, with its very expensive computer systems, helps prove this point. During its time of total market dominance a saying developed: "Nobody ever got fired for buying IBM."

Where is the logic in that? Here we have a seemingly rational buyer, an engineer or Information Technology (IT) professional, being swayed by the emotion of fear. In other words, the fear of being responsible for making a bad decision on such an expensive and important system caused people to decide for the tried and true IBM system. From this we can see how the engineer is as vulnerable as the poet to the tidal sweep of emotion.

Economists understand the causal relationship between emotions and buying decisions. One of their most important gauges is the Consumer Sentiment Index. It measures how the consumer feelsabout the current economy, their own prospects and the future of the economy. If they are fearful of their own prospects, and the economic future of the country, then how likely is it that they will spend the same amount as they did during times when they were feeling optimistic and carefree?

Fears of one's future prospects, and the outlook of the economy, produce cautious buying behavior and are predictive of slowdowns in consumer spending. Economists have not thought it necessary to create a Consumer Rationality Index, because making buying decisions—spending significant sums of money—is governed more by emotions than by reason.
​
An Example Closer to Home

Finally, consider the husband and wife who are in the market for a home. They agree upon a budget of $250,000. This is the upper limit of what they are willing to pay. They can afford more, but they do not want to be house-poor for the next five-to-ten years. This is very rational.

Unfortunately for these rational homebuyers they have an "irrational" realtor. What does she do? She takes them into five to ten homes in the specified range, and then into a house that goes for $275,000. Why is she wasting her time and theirs?

The couple enters the house with their guard up: "Didn't we tell her $250,000 was the limit?" Then they see what a bigger mortgage translates into and their thoughts become, "This home is so much nicer. Look at the closet space and the nicer appliances. The realtor said the price is not a problem. I love this place. Wouldn't we just love living here?"

What just happened? Two very rational people confronting what might be the largest purchasing decision of their lives started the home-buying process with rational rules in place. But once they walked into a "much" nicer home their emotional response to the prospect of living there chucked their rational rules out the window.

Should we accept this assumption—emotions cause the buying decision in complex sales—and move on? No, not yet. For if we start with the wrong assumption, then we are doomed to draw wrong conclusions, like the physicians who assumed health was regulated by the balance of fluids in the body. Is there a way to test this assumption before embracing it? Yes.
​
Verifying the Cause

Since philosophers have been studying the subject of causality for thousands of years, let's take advantage of their intense noodling. I will quote a sentence from the philosopher David Hume, and then paraphrase it to make it both easier to understand and relevant to our search for the cause of closed sales. He wrote, "… where several different objects produce the same effect, it must be by means of some quality, which we discover to be common amongst them." [ii]

Which can be paraphrased as follows: "Where several different [sales systems and techniques] produce the same effect [the buying decision], it must be by means of some quality [emotion?], which we discover to be common amongst them." In other words, if we look at the most effective techniques and sales systems, they should share an emotional approach to selling. So let's see if this holds true.

Most selling systems emphasize the importance of relationships because of the undeniable influence they exert on a buying decision. Are not relationships based on emotions? Yes, but as will be shown, we will need to refine our understanding of relationships if we are to turn them into a cause of the buying decision.

What about the technique of finding out what a customer's "hot button" is? Most selling systems also emphasize the importance of this. If there was ever an emotion-based approach it is this one. Reason is cool and dispassionate; it has no hot button. A customer's excitement about the solution a product provides is an emotional response and not a rational one.

Other systems promote a consultative selling style, and this can be quite effective. On its surface consultative selling seems to be a completely rational approach devoid of emotion. But consider what the consultant is hoping to uncover with his questions and research. Is he not trying to discover what frustrates the customer and makes them want to scream? This is typically one of his goals, because if the consultative salesperson can solve those problems that are the most vexing, then he will give the buyer a strong incentive to decide for his offering.

If you are in sales, you've probably experienced this. You present a solution that will get rid of a truly annoying problem and someone in the audience cannot contain their excitement. They blurt out things like, "Sold!" and, "We've got to have that!" The consultative sales approach is basically a method of uncovering hot buttons. It maps out the customer's emotional landscape.

Let's return to Hume's insight on causation and paraphrase it: "Where several different sales systems and techniques produce buying decisions, it is by means of the quality of emotion, which we discover to be common amongst them." In looking at some of the most-admired approaches to selling we see the common element of their emotional orientation.
​
Consultative Selling Transformed
​
Here is the problem with the consultative approach, or any other that is not based on what causes the buying decision. If you do not know that emotions cause the buying decision you may uncover vital information through consultative techniques and fail to use it as effectively as possible. In other words, you may treat every uncovered need the same (a rational approach), and give less weight to the truly emotional drivers of the buying decision.

Worse still, the consultant who does not know what causes the closed sale may look for what irritates the customer, but fail to look for what makes them fearful, or what hopes and dreams they are trying to satisfy with this purchase. If their competitor knows this information, shows how his product satisfies the full range of emotional wants and needs, and closes the sale, then was it the consultative approach that closed the sale?

No, because both individuals were using consultative selling styles. What closed the sale was the uncovering of powerful emotions and presenting in a way that tapped into them. The competitor showed how the customer's hopes could be met by his product, why they should fear using any other product, and these emotions and others caused their decision: sold!
Relationships Transformed
The same is true about one's view of relationships. It is not the relationship that causes the sale, but the emotion generated by the relationship. This may sound too nuanced, but it is not. The difference is very important.
For example, if I believe that it is the relationship that causes the sale, then I might be content with being the much-loved life of the party whenever I visit my customers. I am entertaining, and customers love to have me around every so often to liven up their day. I continue to act in this way because I believe relationships close the sale, and I have great relationships throughout my territory.
However, I've met salespeople with great personalities who had good relationships across their territory and they were middle-of-the-pack performers. If relationships cause buying decisions, then why weren't they top performers?
Now let's look at the salesperson who has relationships that generate an emotion that causes sales to close in her favor. She is liked, but also
trusted
. Trust is a very powerful emotion. It is important to be liked, and it is good to be entertaining, but it is better to be trusted. Trust will win the sale because it quiets a customer's fears over making a bad decision that might haunt them for years. IBM was a trusted company, with trusted representatives, and nobody ever got fired for buying IBM.
[iii]
In the above example both salespeople have excellent relationships with their customers, but one is liked and does an average job, and the other is both liked and trusted and excels. Therefore, it is not the relationship that closes the sale, but the emotions the relationship generates.
This subtle difference in the way we look at relationships leads to important changes in what we do and how we sell. Instead of trying to develop a relationship with a customer we try to develop a bond of trust, and there are specific things we can do to accomplish this.
Here is the point. Until we understand how the decision is emotionally driven, will we ever systematically approach consultative selling or the development of relationships in this way? No. But once we understand how emotions cause closed sales we will start to look at the consultative approach, the building of relationships, and everything else in a new light. We will modify existing techniques and create new ones so that we may cause our sales success.
What the Rest of the Book Will Cover
​
The unlit, confusing maze of sales is human nature. All salespeople must navigate this course. When we run into its walls we find they are immovable and unforgiving. We cannot go through them, or scale over them; we are simply required to follow them, because we cannot change human nature. This book is an attempt to provide a key to understanding this dark maze from a sales perspective. What follows are the subjects we will cover to accomplish this task.
Part One: Navigating the Maze of Sales
​
The remaining chapters of Part One are aimed at deepening our understanding of the sales process, and preparing salespeople to deliver presentations that irresistibly lead the customer to choose their product or service.

Since emotions cause closed sales, how do we generate powerful and positive emotions? In the next chapter, The Power of Perception, we will look at how perceptions generate emotions, and the ways salespeople can change how they, and their product, are perceived. Much of the rest of the book is based on the insights contained in this chapter.

Power Questions looks at how we ask questions that unearth information that is emotionally powerful. Not all questions work. Some produce information that is inconsequential and potentially misleading. We need a simple process to develop questions custom-tailored to each unique decision maker and decision influencer.

This process of developing effective questions was the basis of a popular workshop, and this brings up an important point. All of the ideas in this book were refined in dozens of classrooms and thoroughly field-tested in intense selling situations, several of which will be used as illustrations. In other words, this book is not based on theoretical musings—don't let my quoting a philosopher fool you—but on hard-fought sales contests that mostly ended in victory. Those that didn't result in wins revealed important emotional reasons why we failed, and they will be covered.

In Consultative Sales we redesign the consultative approach so that it helps the customer make the emotional migration from fear to trust, and then partnership.

In the chapter To Be First Is… we look at the tremendous advantage a salesperson gains by finding an opportunity before anyone else. It also shows how you can find these opportunities first, and why you always want to be the first salesperson to present. One of the primary reasons we lost sales was arriving late on the scene.

Part Two: Powerful Presentations
​
The chapter entitled, Differentiation Is Powerful, will introduce you to a technique that is contrary to what salespeople are typically taught. The seemingly impossible sales situation that I depicted above—where I was called in to present to a hostile crowd at the last minute—was turned around by differentiation. Some of the results generated by this technique still have me shaking my head in amazement.

The chapter on Powerful Stories will help you make your presentation memorable and entertaining. People do not remember statistics, and their minds retreat in the face of a data dump, but a good story engages the mind. This is critical in a complex sale, particularly after a customer has listened to five consecutive, one-hour-long presentations. If yours is the only one that held their attention, and used a format that is inherently memorable, then won't you possess a powerful advantage? This story-telling technique was the subject of another popular workshop in our training program.

Since words can create emotions powerful enough to move a nation to redress wrongs—the civil rights movement—then how can a salesperson harness the emotional power of words? The Power of Words shows how to develop memorable phrases that grow in power as they are repeated.

Part Two's last chapter, Presentation Power, looks at ways of changing the style of the presentation to engage and hold the customer's attention. In some cases this presentation style and content resulted in customers requesting my presentation so they could use it internally to sell other members of the decision-making team. It is safe to say this improved our chances of closing the sale.
Part Three: Finishing Touches
We need to win the war within. Our attitudes can sometimes be the most self-defeating baggage that we choose to carry through life, and they affect our sales success as well. In The Mindset of a Champion we look at how some of the most important attitudes we can adopt are often ones we shy away from.

Relationships exert a powerful influence on sales decisions because of the emotions they generate. But how do we establish relationships that generate the most powerful and favorable emotions? The chapter entitled Relationships goes over a plan to develop them in a way that both causes sales success and the satisfaction that can come from strong and enduring friendships.

What do many salespeople do After the Sale? They move on to the next sales target and forget about the person who just gave them their business. This approach can cause a salesperson to lose the most powerful sales tool of all. Unlike differentiation, the salesperson is not doing the selling, the satisfied customer is.

Sales Performance Coaching is a chapter on how to drive the adoption of successful behaviors in each individual of a sales team. This chapter is ideally for sales managers, one of corporate America's most under-utilized assets. It provides them with a skill that enables them to have a greater impact on revenue growth than probably any other position in the company.

Salespeople should also read this chapter on coaching to see if they are benefiting from this practice. They probably aren't, because few corporations, large or small, train their sales managers in this much-needed skill. So if your sales manager is not coaching you, then share with them the ideas in this chapter. After all, it is possible to coach the coach.
Part Four: Everyone Sells​
If you have purchased this book and are not involved with sales or marketing, then I congratulate you for stepping outside of your comfort zone to learn a powerful, helpful new skill. Nowhere is this need to be able to sell more obvious, or critical to one's financial well being, than in the area of interviewing.

I've met many people who were the best choice for a job, but they lost job opportunities to less-qualified people. I also fell into this category until I discovered and applied the emotional causes of the buying/hiring decision. After that, I won jobs over others who were far more qualified than me. In the chapter, Interviewing, I apply the lessons learned in this book to the art of interviewing. This material was also used in an all-day workshop I conducted pro bono at churches to assist job seekers.

The final chapter is entitled Fulfillment. Whatever your job, your effectiveness and your career fulfillment can be furthered by understanding and applying the emotional causes that produce favorable decisions. By causing favorable buying decisions, hiring decisions, or decisions about a project you've presented to upper management, you can positively impact your financial well-being and career success. As this chapter shows, many of the decisions affecting your career are caused by emotions.

We've only begun. We've just cracked the door. Now it is time to broaden our understanding of what causes the buying decision.

Notes for Chapter One: The Key to the Maze
​
[i]
Hippocrates was born around 460 BC and died around 370 BC. He was the father of western medicine and he believed in the theory of health being controlled by the four fluids of the body. This view was still being held, and practiced, by some physicians in the nineteenth century. For example Lord Byron, the famous English poet, was bled to treat an illness in 1824. His death, several days later, may have been caused by this "therapy."
[ii]
David Hume,
A Treatise of Human Nature
(Digireads.com Publishing, 2010), p. 104.
[iii]
English is a wonderful language, but when it comes to gender it falls short. For example, there is no gender-neutral pronoun that means both she and he, or her and his. Previously, all references found in books were uniformly masculine. Lately I've seen books use exclusively feminine pronouns. This seems to be a mistake made in the other direction. For this reason I will sometimes use masculine and sometimes use feminine references, and ask for forgiveness if I seem to favor one gender over the other.
Table of Contents
Acknowledgments ix

Preface x

Part One: Navigating the Maze of Sales

1. The Key to the Maze 3
2. The Power of Perception 15
3. Power Questions 28
4. Consultative Selling 42
5. To Be First Is… 53

Part Two: Powerful Presentations

6. Differentiation Is Powerful 65
7. Powerful Stories 78
8. The Power of Words 89
9. Presentation Power 97

Part Three: Finishing Touches

10. The Mindset of a Champion 109
11. Relationships 118
12. After the Sale 129
13. Sales Performance Coaching 136


Part Four: Everyone Sells

14. Interviewing 153
15. Fulfillment 165